PRODUCTS
ABOUT US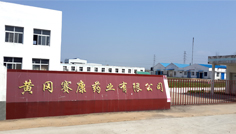 Huanggang Saikang Pharmaceutical Co.,Ltd founded in 2005, is a manufacturer of APIs. Its license number of medicine manufacturing is E20110076, and its products are metronidazole, secnidazole, anethole trithione, piribedil, tauroursodeoxycholic acid and melatonin . Metronidazole, secnidazole and anethole trithione passed the GMP inspection on 13 April 2009, the GMP certificate number is EK0382. Piribedil, tauroursodeoxycholic acid and melatonin were licensed on 21 June 2012, and now these products are in the process of registration. It is the only licensed manufacturer of melatonin.
Huanggang Saikang Pharmaceutical Co., Ltd., locates in Zhongyi town of Macheng (it is the old revolutionary base area of Dabieshan), at the exits of Daguang expressway and Hurong expressway, and is about 70 km away from the Wuhan airport. Its total area is 16625 m2, in which the production area 16415 m2; the building area is 5500 m2, in which the warehouse area is 368 m2, the storage area for the liquid materials is 380 m2; the production workshop area of melatonin is 976 m2, the packaging area of melatonin is 28 m2.
Huanggang Saikang Pharmaceutical Co., Ltd. has 68 employees, including 3 QA persons and 4 QC persons. It has the complete quality assurance system, advanced production and testing facilities, and enough quality management capacity. The quality is always regarded as the life of the company. Its quality policy is: founded on the quality, developed on the quality and grown on the quality. We will carry out the production seriously according to the GMP, and try our best to supply the qualified products.
We persist in the idea of Honesty, Strictness, Innovation and Harmony and the aim of human oriented, quality first, reputation first and customer first. We will work hard for the human healthcare and cooperate with the associates to achieve a more success.